HD & IP CCTV Surveillance
The installation of permanent CCTV systems now stretches across most aspects of everyday life, from public and commercial properties, air, sea and rail ports, hospitals and hotels to sports stadia, vehicle parks, retailers, city centres and even to places of worship. Increasingly, situations are occurring where the installation of effective CCTV coverage is of great value to safety, security or criminal incidents.
With many years experience in the delivery of temporary and permanent CCTV solutions for commercial, retail, event and industrial applications, we have planned carefully to deliver where standard products and techniques fall short of the mark. To meet emergency or unplanned needs, we have developed a rapid response service which enables us to mobilise to any site, set up and operate within hours of the initial call out. Utilising our digital wireless technology, overt or covert CCTV surveillance can be established without the need for power or cabling and with far less limitations for distance, access and ground conditions. We offer a turnkey service which has the prime objective of ensuring that the installed system meets customer's performance needs in the most cost effective way and which can be maintained with the minimum of cost and disruption.
Thermal Imaging Cameras
Spindlewood provides a full range of thermal imaging camera technology. Thermal imaging cameras are widely used in a number of applications;
Industrial Applications (Chemical works & factories)
Thermography Cameras have been used widely in detecting temperature anomalies before a fire starts, finding hot spots and invisible defects on machinery or electrical systems that could indicate a potential problem. They are also used for surveying areas that are hard to reach with conventional measurement tools.
Temperature screening in the workplace
Temperature Screening in the workplace, is designed for the detection of skin-surface temperatures so as to achieve rapid and safe preliminary screening.
Accurate temperature scanning of employees at entrances will detect anyone who is feeling unwell.
Often when we have a fever, we can feel warm, cold or shivery and without accurate temperature testing you will never know. Temperature taking alone, is not an effective way to stop the spread but it is an early indication that a person is unwell and appropriate action can be taken.
Temperature screening cameras from Spindlewood can take the temperature of someone quickly, accurately and without making contact to the skin.
The safe and effective solution will provide an early indication that someone is unwell (& perhaps not even realised it) and enable them to deal with the person before they potentially infect others in the workplace.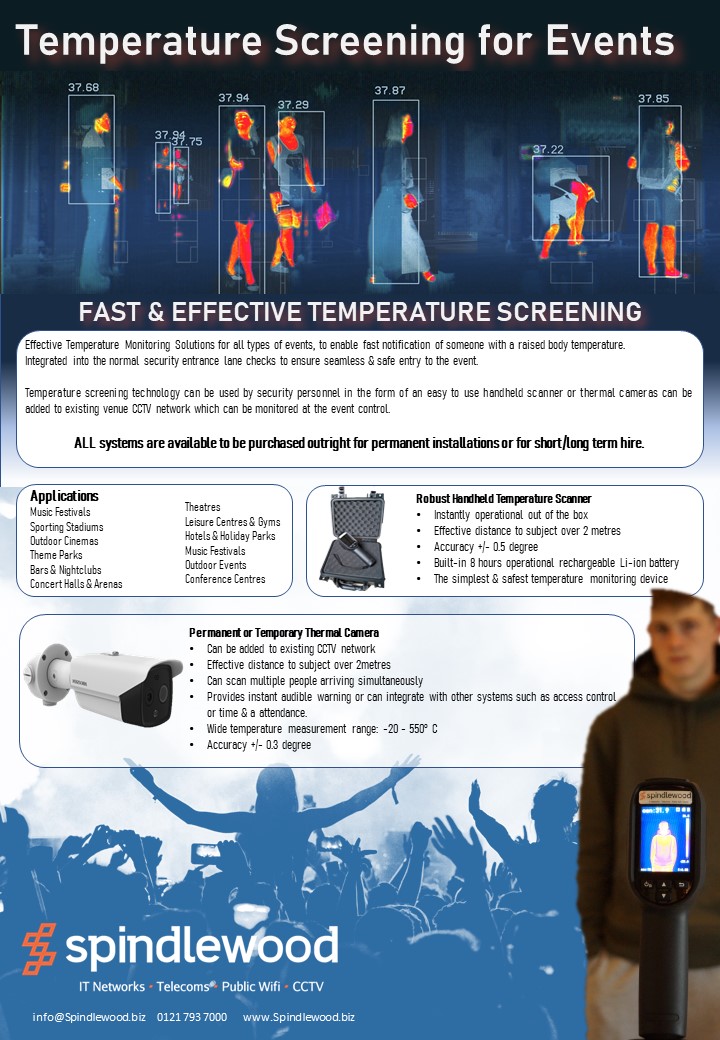 Stop the virus! And Return to work Safer & Faster
High-Definitiion IP Digital CCTV Systems and Service
Design / review following detailed site assessments, procurement, installation and commissioning of all equipment and materials. Full maintenance and upgrade service or Project Manage on behalf of client. Single camera installations to multi remotely controlled fibre optic or wireless IP cameras fully networked or Internet linked.
Rapid Deployment Wireless Cameras
Where short term emergency or unplanned needs arise, we have the commitment, capability, technology and experience to meet fully customers requirements immediately and with little or no need for customer supplied support. – criminal investigations / – crowd and traffic control at sports and media events /- public demonstrations / – vandalism, street and car crime / – border control incidents.

Body Cameras
The Ranger is a versatile COFDM video link with H264 compression. It is ideal for use in body-worn, covert applications or in fixed deployments.
The RangerCam is a body worn wireless CCTV system that can be rapidly deployed where roaming surveillance is required, bringing real-time images back to the monitoring centre. The Ranger camera can be worn by security personnel or covertly by plain clothed operatives.
Images are transmitted back to a central location where they are reviewed and recorded using digital recording techniques.